A Passion for Food and Our Community
At Jianna, we strive to be good neighbors by being involved in our community and making positive contributions.  We are proud to purchase regional products and ingredients whenever possible, and to give back by partnering with local events and causes that do good work.
Listed below are some of the organizations that are important to our restaurants and team. We hope you'll take a few moments to get to know them, too.
Local Farmers and Producers
Greenbrier Farms
Greenbrier Farms is a sustainable farm located in Easley that produces organic produce, grass fed/grass finished beef, and pastured heritage pork and poultry.
Reedy River Farms
An urban farm, Reedy River Farms, grows high quality vegetable produce on a one(1)-acre plot less than a mile away from the center of Downtown Greenville.
Swamp Rabbit Grocery
A local grocery with a mission to buy, sell, and cook with fresh, local food to support a sustainable food system and provide a community space where people come together to celebrate meals.
Broken Oak Organics
Located in the Upstate, Broken Oak offers organically grown produce, fruit and free range eggs.
Upstate Greens
This veteran owned, Greenville farm produces all natural produce, including micro greens, a variety of vegetables and more.
Chef's Cycle | No Kid Hungry

Chefs Cycle is a fundraising endurance event featuring award-winning chefs and members of the culinary community fighting hunger outside the kitchen.  This spring, a three day, 300 mile ride will take place May 16-18 in Santa Rosa, CA with a goal of 250+ chefs riding to help raise $2 million to support Share Our Strength's No Kid Hungry. That translates into 20 million meals for children facing hunger. Jianna's Chef Michael Kramer is a member of the Chef's Cycle team. Click here to learn more about the organization.
Cayson Aprons + Kramer Collection Supports SFA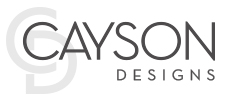 Chef and restaurateur, Michael Kramer, has been a longtime supporter, client and friend of Cayson Designs. Chef Kramer approached Cayson President, Karie La Mountain, during the 2017 Euphoria Greenville Event with some functional, practical, yet revolutionary apron design ideas. Over the last few months the designs have come to life and we are very honored to present The Kramer Collection. We welcome you to shop The Kramer Collection with the knowledge that Cayson Designs will donate 5% of all the sale proceeds to Southern Foodways Alliance on behalf of Chef Michael Kramer.
Click here to learn more about the Cayson Aprons and the Kramer Collection.
Euphoria Food, Wine and Music Festival
Founded in 2006 by platinum-selling singer/songwriter Edwin McCain and Table 301 founder and restaurateur Carl Sobocinski, euphoria is Greenville's most highly anticipated annual food, wine and music event. The four day festival features exclusive tasting events, intimate musical experiences, food truck rodeos, cooking demonstrations and wine seminars, as well as multi-course dinners and live music concerts.  Award-winning chefs, master sommeliers and renowned singers/songwriters from across the country participate in this extraordinary event which supports the non-profit Local Boys Do Good.
Jianna's Chef Kramer is proud to serve on the euphoria Culinary Council. He and his Table 301 culinary colleagues are active participants in the festival throughout the year. To learn more about euphoria or how you can be involved, click below.
Food & Wine Festivals
In addition to his involvement with the euphoria festival, Chef Kramer has participated in food and wine festivals around the country. Click to find out more about these national events.
Hincapie Sports
Hincapie is a name well-known in the cycling world and in Greenville.  Hincapie Sportswear sponsors the Hincapie Racing Team, a team racing at the pro-continental level that develops and conditions young cyclists who want to make it into the pro circuit. In addition to the racing team, Hincapie Sportswear also sponsors several events and races throughout the year in the Greenville area.